When you are going on a beach vacation, swimwear is essential. And you need to think about the setting you will be in and how you can match the colours of swimwear to the setting. There are many places to purchase swimwear and there are specialised online stores as well that you can shop in the comfort of your own home.
An essential swimwear element you need to have with you is the classic one-piece.
You can choose different colours and patterns to flatter your body shape. There are also certain features that can make the swimsuit more comfortable. Therefore, when searching for a swimsuit, look for one that comes with underwire cups or support along with adjustable straps. And if you feel as if the one-piece is a bit too dull, you can look for one that comes with cut-outs in strategic places to add a bit of style. You can never go wrong with a flattering bikini. Make sure to match the colours of the swimsuit to the undertones of your skin so that the colour pops and highlights your best features. Your skin will glow when complemented with the colours that suit you the most. For example, if you have cool undertones, a purple or blue bikini will be ideal. And for those with warm undertones, you can choose vibrant and earthy colours.
When choosing a bikini, look for a supportive top.
If you want a bit of coverage for the chest, you can choose a high neck design which can be very flattering especially for small chested or wide shouldered people. The best way to choose swimwear is to wear it and think about how it makes you feel. Does it make you feel happy and confident? Then this is the right option to go with. If you want to go for a two piece swimsuit that gives you more coverage, a tankini is a good option to consider. It has a tank top style top which will keep you comfortable and you will still feel stylish wearing it. If you plan to participate in water sports or other activities such as beach volleyball, snorkelling etc. it's best to get some active swimwear. These are durable suits that can help you move freely and give sufficient support as well.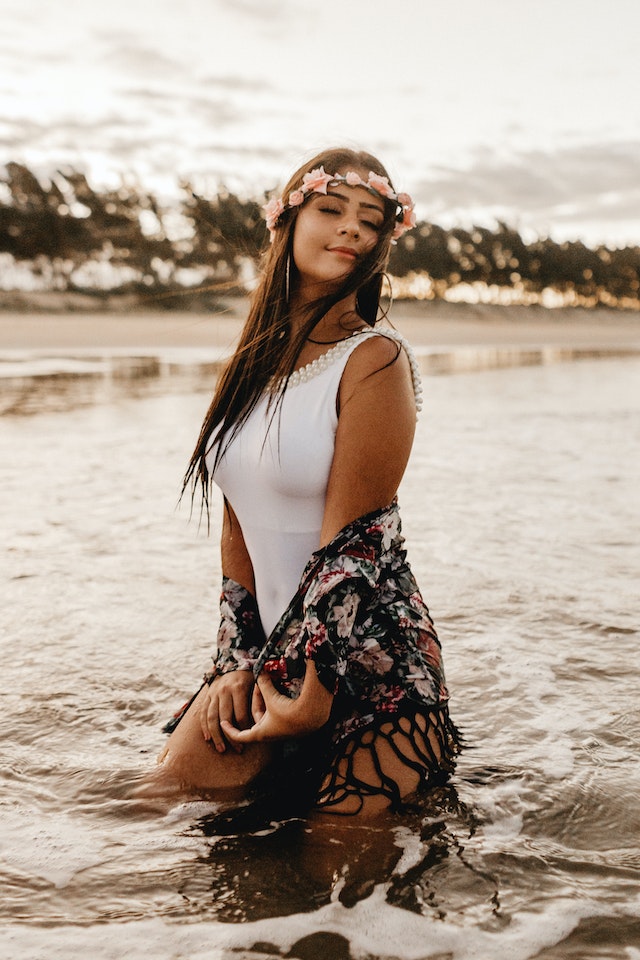 In addition to swimwear, an essential you should carry with you is a cover up.
This is a great addition so that you can layer this over the swimsuit when you are walking along the shore or going to a beachside restaurant. You don't have to worry about changing into something else. This will give you sufficient protection and create a stylish look as well. Make sure to select a cover-up that is made of breathable and lightweight fabric. Check if the pattern and the colour of the cover-up complement the swimsuit. Board shorts are also a good option if you want more coverage especially when you are engaged in activities on the beach such as volleyball. You need to select board shorts that come with quick drying fabric so that it is comfortable to wear.