Window tints have undergone a lot of changes due to advancements in technology and the number of options you have today is truly immense. There are even clear window tints that do a great job of shielding the interior of the building from heat. And there are also decorative window tints that will help you play around with the external appearance of the building.
One of the popular reasons for window tinting office is to maintain views around the office. When there are blinds and curtains on the windows, this can block the surrounding views. If your office is at a higher level, it can be a waste to block out spectacular views from the outside. Also, installing window tints is cheaper than choosing blinds or curtains. In this situation, you can select a crystal clear window film with a very high ratio of light transmission to heat rejection.
This prevents glare and allows you to make the most of natural light. And this can be a great way of bringing down utility costs of the office. You can make maximum use of natural light and only have a few artificial lighting in areas where it is required. You may notice that at night, the windows tend to reflect the interior lights of the office instead of presenting you with the nighttime cityscape. To prevent this, you can use a 3M night vision film. This way you can enjoy views during the night as well.
You can improve the safety of your building with window tinting. One such option is 3M mirror films that create a one way privacy window film. This can be used in the room that your security team is situated in. This prevents people from looking in but the people inside will be able to scope out the surroundings clearly.
And this is a good way of slowing down armed thieves until law enforcement can take charge of the situation. Heating and cooling costs are rising up all the time so you can reduce them using window tints as insulation. There are low emissivity window films that will improve the thermal performance of windows. You will not need to replace the existing windows when you select this option and this will save you more money.
You can use daylight redirecting film can redirect most of the natural light into the ceiling. This is a great way of increasing the amount of natural light in the building. This will help you bring down lighting costs as you will not be using as many artificial lights in the daytime. And as many offices tend to work in the daytime, this is a great way of cutting costs.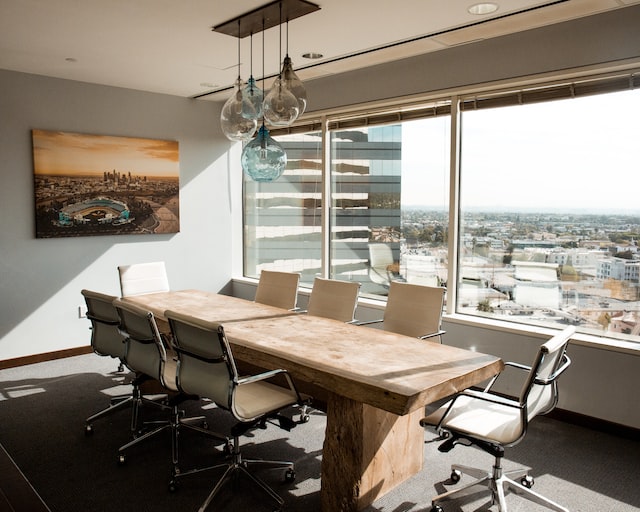 And unlike just having a clear tint, daylight redirecting film can actually allow natural light to extend deeper into the office without causing glare. Many offices tend to rely on artificial lighting instead of sunlight due to distracting glare. You can also improve the aesthetics of the office by using patterned, coloured or frosted window films. This will inject a bit of variation into the office and reduce the dullness. There are many decorative films that you can use for this purpose.